L.A. Daily News seeks freelance sports writers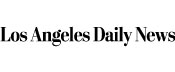 L
os Angeles Daily News
, a 160,000-circulation newspaper, is seeking freelance sports writers.
"Our focus centers on high school and community sports and knowledge of local teams is a plus," the sports editor states. "Freelancers will produce regular game coverage, notebooks, features, trend pieces and enterprise stories."
E-mail cover letter, resume and 6-8 work samples to vincent.bonsignore@dailynews.com.
Labels: freelance, freelance_writing, freelancers, high_school_sports, Los_Angeles, sports_journalism